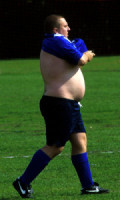 This isn't me on a Sunday morning but it is a good example of how I achieve my pictures. I was working on a story about Sunday morning football and I spotted this gentleman.
During the warm up he was wearing a different shirt to his team mates that I knew he would have to change before the game began so I just waited for the "decisive moment".
From the early years working for music papers and magazines, through a dozen years as a sports photographer for The Independent, Independent on Sunday and The Observer as well as The Sunday Times, The Guardian and both Telegraphs to the work displayed in these pages, I have executed the brief and tried to add a twist of my own.
Please click on the galleries to the left and you will be able to see a wide range of my work. I hope you enjoy looking at them as much as I have enjoyed creating them.
Testimonials
" Adam has spent a lifetime capturing the real joy of ordinary people doing exceptional things. From hospitals and schools through to business and sports, Adam has an eye for the moment that makes everything worthwhile.

His pictures are authentic. They represent the best of us, whether that be striving for a goal, celebrating an achievement, or just kicking back with our friends.

Adam's credentials are impeccable. He is highly experienced in handling delicate situations and vulnerable people, has excellent technical skills, as well as the ability to manage the temperament of celebrities and business leaders."

Andy Cowles, Editorial Development Director, IPC Media.
" Having worked with Adam for the past 5 years, I have found him to be professional, personable and knowledgeable in the aspects of professional photography that I have required to be carried out. I look forward to continuing our very good working relationship."

Justin P. Fitzgerald, Communications and Marketing Executive, J. Murphy & Sons.
" Adam is a fantastic photographer who always delivers high quality photography for printed and on-line materials. On many occasions, we have asked Adam to complete a task at short notice but he has always delivered on-time and to a high quality."

Darren Aldrich, Senior Communications Manager, NHS Careers.
" We have commissioned Adam on numerous occasions to photograph our school community. He is a gifted photographer, skilled in getting the precise images we were looking for while working easily with our pupils."

Dr Peter Spence,Director, External Relations, Haberdashers' Aske's Boys' School
" Adam offers a great deal of knowledge in his area of expertise. He is personable, diligent and extremely professional in his approach. I have no hesitation in deploying Adam's services and would wholeheartedly recommend him for any photographic assignments."

Raj Madhani, Director, HELM Asset Management Limited.
"Adam has given us a wonderful library of amazing photographs over the past seven years when he was first commissioned to take pictures for our school prospectus. His keen eye for detail has produced many iconic images with an artistic flair. I look forward to working with him into the future."

Heather Sherman, Marketing Manager, Aldenham School.
" Adam is an excellent photographer who quickly understood the needs of our school. He was very professional throughout and worked alongside all members of the school community without any problems whatsoever. His final photographs were superb and they really captured the spirit and ethos of all aspects of school life that we were trying to convey. I recommend him without reservation. Excellent in every way."

Graham Gorton, Head, Howe Green House School, Chair of Independent Schools Association 2010
" Adam is the best photographer I have come across during my 20 years working in marketing. The shots he took were instrumental to the success of a new school prospectus project I handled recently. Photographs from this were subsequently chosen for use in a number of national publications, including a cover shot for the official Prep Schools' Association magazine. Adam understood the brief perfectly and it was his attention to detail and innate ability to create the perfect shots which was particularly impressive. He was extremely professional and easy to work with throughout the process and his original and creative input about the style of pictures proved invaluable. I would have no hesitation in recommending his services to any organisation."

Philippa Scudds, Director of Marketing, Canford School.
" Adam is a fantastic photographer who ably captures the essence of our school through his photos. More than that, he has a passion for how the school markets itself. We have benefited from his vision and enthusiasm; the school is better for it. Adam has a natural affinity with the students, which enables him to create natural and striking pictures. He is a firm fixture on our marketing calendar."

Jeremy Clifton, Assistant Headteacher, Woodbridge High School.